The laboratory actively implements the idea of a "Bedside to Bench, and vice verse" industry-universityresearch partnership and focuses on the development of this partnership. The industry-university-research base in the laboratory (Guangzhou Huyansuo Pharmaceutical Technology Co., Ltd.), founded in 2009, is one of the key projects introduced into the Guangzhou Development Zone. Located at No. 1, Ruifa Road, Guangzhou Science City, the "industry-university-research base of the State Key Laboratory of Respiratory Disease" covers an area of 10,000 m2 with a building area of 23,800 m2 and was fully put into use in 2015. On November 9, 2018, construction area of 53600 square meters of new production base Park in Foshan Nanhai High-tech zone laid the foundation , which total investment is expected to exceed 300 million yuan, and the construction is planned to be completed by the end of 2019 and put into use in 2020.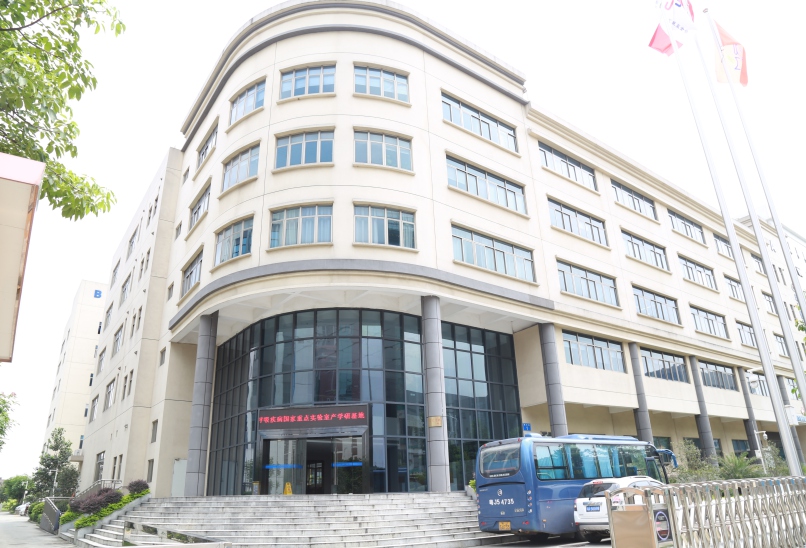 The base aims to develop into an internationally influential, innovation-oriented professional high-tech business incubator. Its primary service covers the construction and development of industry-university-research parks, the construction of technology platforms for achievement transformation, and angel investments in original technical projects. It has introduced social capital of over RMB300 million, promoting the all-round development of various business items. Since its establishment, the base has promoted the founding of nearly 20 venture enterprises; it has trained 3 finalists of the National Thousand Entrepreneurs Program, 1 finalist of the National Ten Thousand Entrepreneurs Program (2 of them are national outstanding young scholars), and 5 municipal leading entrepreneurial teams with nearly 300 core members; and it has applied for nearly 100 patents.


The following medical-industry and industry-university-research transformation platforms have been built with approval: Guangdong Provincial Engineering Laboratory for Respiratory Medicine, Guangdong Provincial Academician Workstation, Guangdong Provincial Engineering Technology R&D Center for Respiratory Medicine, Guangdong-Hong Kong-Singapore Joint Research Center for the Clinical Prevention and Treatment of Unexpected Respiratory Viruses, Guangdong-Macao Joint Research Center for the Development of New Drugs for Respiratory Pathogens, Guangzhou Municipal Public Technology Service Platform for Respiratory Medicine, Guangzhou Municipal Innovation Base for Postdoctoral Students, Guangzhou Municipal Technology Business Incubator, Guangzhou Development Zone High-tech Business Incubator and Respiratory Health Industry Incubator; as well as public innovation platforms such as the Guangdong Provincial Nanshan Medical Development Foundation, Guangdong Provincial Nanshan Institute of Medical Innovation, Guangzhou South China Medical Research Center and Guangzhou Type 2 Diabetes Research Institute. The center new approved "Respiratory health industry Incubator" National cultivation unit and the qualification of "cultivation unit of National University Science Park of Guangzhou Medical University" in 2018, and won the 2017 Guangdong Province excellent science and technology business incubator and Guangzhou Biological Industry Alliance "Outstanding Contribution Enterprise Award."


In the future, the laboratory industry-university-research base will further introduce social capital to found a special incubation and investment foundation in order to build a "national innovation centre for respiratory health" and a "national technology enterprise incubator" . It plans to build production bases and incubation branches in the high-tech zones around the Pearl River Delta Region, such as Guangzhou, Foshan, Dongguan and Shenzhen. It strives to develop into an excellent national professional technology enterprise incubator to make a greater contribution to innovation and entrepreneurship.