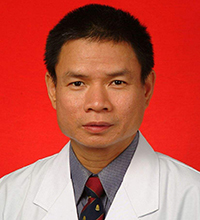 郑劲平
职务:
广州呼吸健康研究院副院长、呼吸疾病国家重点实验室副主任、国家呼吸疾病临床医学研究中心副主任、广州医科大学南山学院副院长

职称:
教授、主任医师
研究工作:
创建中国肺功能联盟并任总负责人,组织制定了我国肺功能检查系列指南,倡导"像量血压一样检查肺功能",并组织了"肺功能检查规范化培训万里行"等系列活动,覆盖全国2千多家医院,规培医师1万多名,积极推动我国肺功能临床应用
研究方向:
慢性气道疾病(慢性阻塞性肺疾病、支气管哮喘等)诊治、肺功能检查、呼吸药物临床研究、呼吸大数据分析。
科研项目:
1、国家重点研发计划—重大慢病专项:呼吸系统疾病临床研究大数据与生物样本库平台(2018YFC1311900)
2、国家科技支撑计划—慢性阻塞性气道疾病肺功能检查规范化临床应用体系建设与推广(2015BAI12B10)
3、国家自然科学基金—慢性阻塞性肺疾病发病中粘蛋白MUC5B的作用机制及羧甲司坦干预研究(81470234)

代表性学术论文:
1、Jinfang Ma, Jinping Zheng*, Nanshan Zhong*. Effects of YuPingFeng granules on acute exacerbations of chronic obstructive pulmonary disease: a randomized, placebo-controlled study. 2018,13 :3107–3114
2、Chen CL, ..., Jinping Zheng*. Early COPD patients with lung hyperinflation associated with poorer lung function but better bronchodilator responsiveness. International Journal of COPD 2016:11 2519–2526
3、Jinping Zheng*, Nanshan Zhong*, Amy Newlands, Alison Church, Aik H Goh. Efficacy and safety of once-daily inhaled umeclidinium/vilanterol in Asian patients with COPD: results from a randomized, placebo controlled study. International Journal of COPD 2015:10 1753–1767
4、Wang Wei, Zheng Jin-ping*, Zhu Shao-xuan, GuanWei-jie, Chen Mao, Zhong Nan-shan*. Carbocisteine attenuates hydrogen peroxide-induced inflammatory injury in A549 cells via NF-κB and ERK1/2 MAPK pathways. International Immunopharmacology 2015;24: 306-313
5、Jinping Zheng, Teresita de Guia, Jie Wang-Jairaj, Amy H. Newlands, Changzheng Wang, Courtney Crim, Triangle Park, Nanshan Zhong*. Efficacy and safety of fluticasone furoate/vilanterol (50/25 mcg; 100/25 mcg; 200/25 mcg) in Asian patients with chronic obstructive pulmonary disease: a randomized placebo-controlled trial. Current Medical Research & Opinion 2015;31(6):1191–1200
6、Jin-Ping Zheng, Fu-Qiang Wen, Chun-Xue Bai, et al. Twice daily N-acetylcysteine 600 mg for exacerbations of chronic obstructive pulmonary disease (PANTHEON): a randomised, double-blind placebo-controlled trial. Lancet Respir Med, 2014;2: 187-94
7、Jinping Zheng, Jinghua Yang, Xiangdong Zhou, et al. Roflumilast for the treatment of COPD in an Asian population - a randomized double-blind, parallel-group study. Chest, 2014;145(1):44–52.
8、Weijie Guan, Jinping Zheng*, Yi Gao, et al. Leukotriene D4 and methacholine bronchial provocation tests for identifying leukotriene -responsiveness subtypes. J Allergic Clin Immunol 2013; 131:332-8
9、Zhu Z, Zheng JP*, et al. Questionnaire survey on clinical application of aerosol nebulization therapy in China. Journal of Aerosol Medicine and Pulmonary Drug Delivery. 2014
10、Nanshan Zhong, Jinping Zheng*, et al. Efficacy and safety of budesonide/formoterol via a dry powder inhaler in Chinese patients with chronic obstructive pulmonary disease. Current Medical Research & Opinion 2012;28(2):1–9
11、Zheng JP, et al. Preventive Effect on Acute Exacerbation of Chronic Obstructive Pulmonary Disease (COPD) with Carbocisteine (PEACE Study): A Randomized Placebo Controlled study. Lancet 2008; 372: 1631-1632
12、Zheng JP, Yang L, Bai CX, et al. The efficacy and safety of combination salmeterol (50 μg) / fluticasone propionate (500 μg) inhalation twice daily via Accuhalar in Chinese patients with COPD. Chest, 2007;132(6):1756-63
13、郑劲平*、高怡*。肺功能检查指南:第一部分-概述及一般要求。中华结核和呼吸杂志。2014 ;37(6):402-5
14、周明娟*、郑劲平* 肺功能检查指南——肺弥散功能检查 中华结核和呼吸杂志 2015;38(3):164-9
15、江梅,郑劲平*.慢阻肺临床试验常用评价指标及相关统计分析方法的应用。中华医学杂志2018;98(4):309-312.
16、国家呼吸系统疾病临床医学研究中心,国家食品药品监督管理总局药品审评中心(郑劲平*).慢性阻塞性肺疾病药物临床试验规范[J].中华医学杂志,2018,98(4):248-259.
获奖及个人荣誉:
1、获国家科技进步二等奖2项
2、省部级科技进步一等奖3项
3、药明康德生命化学奖
4、国务院政府特殊津贴专家
5、国家卫计委突出贡献中青年专家
6、中国优秀呼吸医师
7、广州市优秀专家
8、广州市优秀教师、
9、羊城好医生
联系方式:
Email: jpzhenggy@163.com